U.S. Gold Coin Melt Value
Current Intrinsic Metal Value of U.S. Gold Coins
By James Bucki, About.com Guide
The chart on this page shows the current intrinsic or melt value of common U.S. gold coins. This is not a listing of how much it costs the U.S. Mint to make these coins, but rather a measurement of value based solely upon the metal content of the coin. This page is not a legal endorsement of melting or defacing coins, but serves to provide you with information on a coins intrinsic metal value.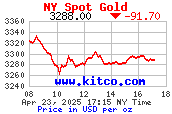 Melt Values of U.S. Gold Coins
Current Price of gold: $1,230.00 USD per Troy Ounce (t oz.)
Down $10.00 or -0.80%
Updated: April 18, 2016
Note: Click on the photos for a larger image.
Coin Image
Coin Description
Weight
AGW
Melt Value
50th Anniversary Kennedy Half-Dollar Gold Proof Coin
(2014)
99.99% Gold
23.33 g.
0.7500 t oz.
$922.50
Liberty Head - Type One
Gold Dollar
(1849-1854)
90% Gold
1.67 g.
0.0484 t oz.
$59.50
Indian Head - Type Two
Gold Dollar
(1854-1856)
90% Gold
1.67 g.
0.0484 t oz.
$59.50
Indian Head - Type Three
Gold Dollar
(1856-1889)
90% Gold
1.67 g.
0.0484 t oz.
$59.50
Liberty Head $2.50
(1840-1907)
90% Gold
4.18 g.
0.1209 t oz.
$148.76
Indian Head $2.50
(1908-1929)
90% Gold
4.18 g.
0.1209 t oz.
$148.76
Indian Head $3
(1854-1889)
90% Gold
5.01 g.
0.1451 t oz.
$178.50
Liberty Head $5
(1839-1908)
90% Gold
8.36 g.
0.2419 t oz.
$297.50
Indian Head $5
(1908-1929)
90% Gold
8.36 g.
0.2419 t oz.
$297.50
Liberty Head $10
(1838-1907)
90% Gold
16.72 g.
0.4838 t oz.
$595.01
Indian Head $10
(1907-1933)
90% Gold
16.72 g.
0.4838 t oz.
$595.01
Liberty Head $20
(1849-1907)
90% Gold
33.44 g.
0.9675 t oz.
$1,190.03
Saint-Gaudens $20
(1907-1933)
90% Gold
33.44 g.
0.9675 t oz.
$1,190.03
Gold Eagle $5 - 1/10 Ounce
(1986-Date)
91.67% Gold
3.39 g.
0.1000 t oz.
$123.00
Gold Eagle $10 - 1/4 Ounce
(1986-Date)
91.67% Gold
8.48 g.
0.2500 t oz.
$307.50
Gold Eagle $25 - 1/2 Ounce
(1986-Date)
91.67% Gold
16.97 g.
0.5000 t oz.
$615.00
Gold Eagle $50 - One Ounce
(1986-Date)
91.67% Gold
33.93 g.
1.0000 t oz.
$1,230.00
Buffalo $50 - One Ounce
(2006-Date)
99.99% Gold
31.11 g.
1.0000 t oz.
$1,230.00
First Spouse $10 - 1/2 Ounce
(2007-Date)
99.99% Gold
15.55 g.
0.5000 t oz.
$615.00
"t oz." = Troy Ounce. There are 31.1034768 grams (g.) in one Troy Ounce.
Coin Images Courtesy of: Heritage Auction Galleries, Ha.com
Bullion Coin Images Courtesy of: The United States Mint, www.usmint.gov
Notification of Disclaimer